Technical Team
Membership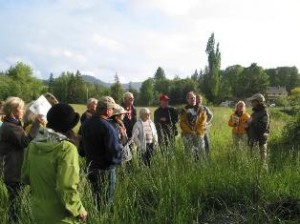 Ed Alverson, Botanist
Expertise – conservation of wetlands and threatened upland habitat such as oak savanna, prairie, woodlands, and old growth forests.
Peg Boulay, University of Oregon
Expertise – wildlife biology and student learning program connections.
Becky Flitcroft, Research Fellow in Fisheries at Oregon State Univeristy
Expertise – fish population ecology, with a particular focus in population dynamics.
Karen Hans, Fisheries Biologist at Oregon Department of Fish & Wildlife
Expertise – Willamette Valley fisheries.
Jarod Jabousek, Wildlife Biologist at U.S. Fish & Wildlife Service
Expertise – restoration of wetlands, prairie, savanna, and woodlands.
Leo Poole, Bureau of Land Management
Expertise – fisheries biology.
Pat McDowell, Fluvial Geomorphologist at University of Oregon
Expertise – morphological responses to river restoration.
Wes Messinger, Botanist at U.S. Army Corps of Engineers
Expertise – Willamette Valley plants and terrestrial insects.
Ryan Ruggiero, McKenzie River Trust
Expertise – implementing partnerships, conservation easements, landscape planning.
Kendra Smith, Bonneville Environmental Foundation
Expertise – stream ecology and floodplain management.
Pamela Wright, Oregon Department of Environmental Quality
Expertise – water quality and riparian ecology.
Other Ad-Hoc Members, as needed.