March 20 Public Meeting: Urban Waters & Wildlife Program Update
"Amazon Creek: Learning about its history and envisioning the future"
Tuesday, March 20
6 – 8 p.m.
Northwest Community Credit Union's community room
545 E. 8th Ave., Eugene

Join the Long Tom Watershed Council and our partners at the City of Eugene on March 20th for an update on the council's efforts in Amazon Creek and the urban part of our watershed. For seven years, LTWC has been leading a collaborative effort to improve urban water quality and habitat through the voluntary participation of businesses and our community members. Beginning as the "Amazon Initiative," this endeavor grew into the "Urban Waters & Wildlife Program" in 2014 as the council broadened its urban programming to serve the entire Eugene-Springfield metro area. March's presentation will feature presentations on the history and goals for managing Amazon Creek, current efforts by the City of Eugene and LTWC to improve habitat and water quality, and an update on current and upcoming Urban Waters & Wildlife Program efforts.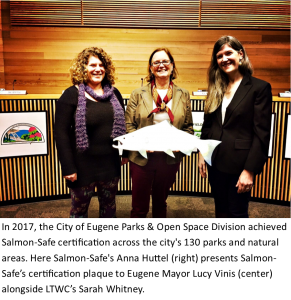 Topics and Presenters:
How the City of Eugene maintains  Amazon Creek, and the history of the City's goals in managing this important urban stream – Jesse Cary Hobbs, City of Eugene Natural Areas Supervisor
Current and planned City of Eugene efforts to monitor and improve water quality, work with LTWC and other partners to implement voluntary shade incentives , and the recent Salmon-Safe certification of the Parks & Open Space division – Shelly Miller, City of Eugene Parks & Open Space Ecological Services Manager
Urban Waters & Wildlife Program overview, accomplishments, and upcoming efforts – how the council works with area partners and stakeholders, examples of recent projects, and a vision for a "Trout Friendly" Amazon Creek and how the community can participate – Sarah Whitney, LTWC Urban Waters & Wildlife Program Manager
Amazon Creek is Eugene's second largest waterway, after the Willamette River. The Amazon watershed includes many small tributary streams like Willow Creek and Flat Creek, and is comprised of several channels in addition to the mainstem. This important network of channels is an inextricable part of Eugene life, and of the greater Long Tom watershed. And it is far more than just an important set of channels for stormwater, it is also important urban habitat, and a part of the aesthetics and sense of place for our city. We hope you'll join us to learn more about this important part of the Long Tom Watershed!
This event is free and open to all. Light refreshments provided.
For more information about this meeting or any of LTWC's public events:
Rob Hoshaw: 541-338-7055, operations@longtom.org