Rain Garden Volunteer Activity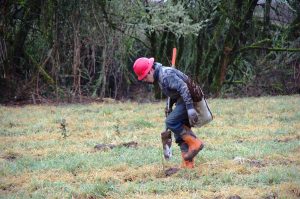 Join the LTWC Volunteer Planting Crew on Sunday, May, 7th from 10AM – 3PM (tenative), for HIV Alliance's Rain Garden Planting with our Urban Restoration & Stormwater Specialist, Sarah Whitney!

Information on the Project: When HIV Alliance realized they were going to need to replace the parking lot at their new location adjacent to the Amazon Creek, they reached out to Sarah Whitney, program manager of Long Tom Watershed Council's Urban Waters and Wildlife Program. The site was quickly identified as being ideal for a central rain garden to pre-treat their .25 acre parking lot before that water, carrying heavy metals, petroleum products, and heat, drained directly to Amazon Creek, which is where approximately 80% of Eugene's stormwater is routed, typically untreated.
Rain Gardens reduce pollution, improve downstream health, provide wildlife habitat, and reduce the heat island effect all while providing a beautiful landscape! Come be a part of planting this rain garden, as well as a shade garden, and a few other areas, and learn what makes this a Trout Friendly Landscape.
Scope:
Planting ~600 plants for HIV Alliance Rain Garden
Mulching
Rain or Shine! This is an amazing opportunity to gain experience, give back to your community, and to get your hands dirty with the Long Tom Watershed Council Staff!
When: Meet on Sunday, May, 7th at 10AM to sign waivers. We anticipate the project will end at 3PM, this is dependent on the number of participants.
Where
1195 City View,
Eugene, OR 97402
Note: Limited parking, please use alternative transportation if possible. Anticipate parking nearby if driving.
What to Bring?
Boots
Knee Pads
Warm Layers
Rain Gear
Water Bottle
Lunch
We Will Provide:
Gloves
Tools
Extra Water
Snacks
Instructions
General Wisdom