Habitat Enhancement Projects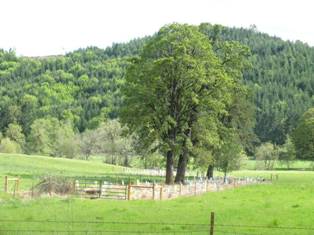 Property owners who participate in habitat enhancement projects with LTWC have mentioned that they feel like they're helping to "do the right thing" and are part of a broader community effort. This sense of community has been developing in the Long Tom Watershed through years of targeted outreach, peer discussions, and demonstrated action. Landowner participation in projects is completely voluntary. We've earned the credibility and support of local farmers, foresters and rural neighborhoods by working hand-in-hand with landowners to come up with creative, practical solutions. We approach habitat enhancement with a combination of local scientific knowledge and a common sense perspective.
Part of our priority focus is to enhance the habitat in and adjacent to streams. This includes removing invasive weeds and replacing them with native vegetation along the stream, adding structural habitat within the stream, and removing barriers to fish movement. The waters of the Long Tom are the "bread basket" for young fish such as cutthroat trout, providing some of the best feeding and wintering habitat among the Willamette's tributaries. We also work in wetlands, prairies and oak savannas. The watershed is an anchor for oak and prairie habitat in the Willamette region, supporting species such as western pond turtles, camas and Fender's blue butterfly.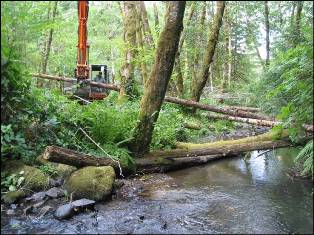 Data collected through research studies have helped us identify and prioritize areas for habitat enhancement. Since these projects are grant funded, we have to propose projects that have high ecological value in order to win highly competitive grants. This means we focus on working with people who own property in high priority areas and own larger parcels of land. Getting to the point of a fully scoped and funded restoration project is a rigorous process, and we're proud to say that we've completed or begun work on over 60 projects! We're grateful to all property owners who have participated in this process!