Surveys & Monitoring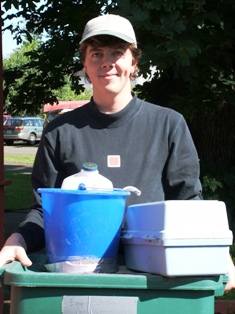 The Long Tom Watershed Council has been consistently gathering data since 1999 in order to help us understand current watershed conditions and habitat needs. Fifteen years years of monitoring have provided the Council and its partners with a solid foundation for understanding conditions in the Long Tom Watershed. Tracking trends in stream health helps us prioritize areas to target for restoration, plan how best to improve watershed conditions – for fish, wildlife, and people. Each of the following programmatic areas rely on the assistance and talents of many individual volunteers and the interest and cooperation of local property owners. To each of you who has helped us collect data along the way – thank you!

Water Quality Baseline & Source Program, 1999 – 2006
LTWC collected baseline water quality data that informs our key documents and reports, such as the Watershed Assessment and Conservation Strategy. We use the data collected to communicate watershed conditions to community members at public meetings and in reports. We also share this information with local, state, and federal partners who are using the data to better understand water resources in the basin.
We invite you to visit our LTWC Technical Reports page to see the results of this research.

Small City Water Quality Monitoring, 2008 – 2010
LTWC provided the Technical Leadership for a multi-year grant to study water quality around eight local small towns, in collaboration with the Middle Fork Watershed Council and Cost Fork Willamette Watershed Council. This collaborative effort was supported by a DEQ 319 grant and with the generous donation of lab services from Junction City.
A total of 40 sites were monitored for dissolved oxygen, water temperature, conductivity, turbidity, total suspended solids, nitrogen, phosphorus, and E. coli. Three of the eight cities sampled were within the Long Tom Watershed and adjacent Willamette Service Area – Coburg, Junction City, and Veneta. Read about the results in the final report.
Model Watershed & Regional Monitoring Program, 2009 – 2019
The Willamette Model Watershed Program is a multi-organizational effort to improve stream, riparian, and wetland habitat. Funded by Meyer Memorial Trust and administered by the Bonneville Environmental Foundation, the program's goals are to improve the pace and effectiveness of community-based restoration in selected areas of ecological importance within the Upper Willamette River Basin.
Trends in water quality and habitat variables are tracked over a 10-year period to learn how conditions are changing and measure the effectiveness of restoration efforts to improve habitat and provide clean water for fish, wildlife, and people. Learn more about our 10-Year Model Watershed Monitoring Program efforts.
Pesticide Monitoring in Amazon Creek, 2010 – present
LTWC's pesticide monitoring efforts are part of our Urban Waters & Wildlife Program. In 2010, the Council partnered with the Oregon DEQ to form a Pesticide Stewardship Partnership, with funding from Meyer Memorial Trust and significant support from SureCrop Farm Service, the City of Eugene, and key leaders in the business and agricultural community. The program's goal is to learn more about what chemicals are impacting area water quality so we can direct our outreach efforts to address commonly found pesticides and their sources.
Next Up: Measuring Long Tom Water Quality Trends & Priorities
See also: Related Monitoring Programs
See also: LTWC Watershed Assessment, Chapter 10 (WQ) for a description of historic monitoring programs