Watershed Monitoring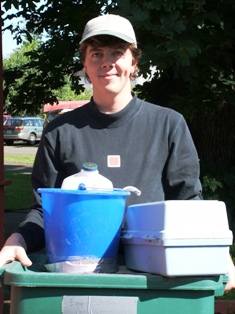 The Long Tom Watershed Council's watershed monitoring program has provided invaluable information on watershed health since 1999. Our program included monthly monitoring at 18 sites around the watershed, continuous temperature monitoring during the summer at 34 stream sites, and a pilot study of the water quality in surface runoff on private agricultural lands. In order to capture the diversity of habitat and land use, LTWC sampled sites in each sub-watershed, junctures between different land uses, and on varying elevations and stream sizes within the watershed. Through these programs, council volunteers and local farmers have collected water quality data in many parts of the watershed that had little or no regular monitoring previously.
At the 18 baseline sites volunteers and the monitoring coordinator measure water temperature, dissolved oxygen, turbidity, conductivity, E.coli, nutrients, and suspended solids. Water temperature and E.coli show the most impairment across all sub-watersheds. Our data show that many streams have temperatures that are too warm for cutthroat trout anywhere from two weeks to a few months out of the summer. Warm temperatures prevent cutthroat trout from inhabiting some lower elevation areas of the watershed during the summer.
Please see our Technical Reports page to view our 2003 and 2007 watershed monitoring reports.