Volunteer for Aug 12 Amazon Creek Clean Up!
Saturday, Aug 12
9 a.m. – noon
LTWC Office (751 S. Danebo Ave., Eugene)
The City of Eugene is hosting a "Trash Bash," along with the Long Tom Watershed Council, WREN, and Bureau of Land Management to clean up trash in and along Amazon Creek from the West Eugene Wetlands Partnership Office downstream.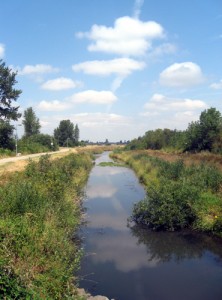 This is a fantastic opportunity to steward your watershed. Let's take the trash out and give in to caring for our urban waterways!
To commemorate the event, volunteers will make their own Trash Bash t-shirt. RSVP required to receive a t-shirt and for equipment planning purposes. This is a Eugene Outdoors family-friendly event – no experience necessary. Tools, instruction and snacks provided.
Interested? Please RSVP using the form below. Here is also the City of Eugene's official event announcement.
—
Background on Amazon Creek
Amazon creek plays host to more than just water and is home to heron, otter, amphibians, insects, a variety of native fish, and about 160,000 Eugenians. The creek drains over 21 square miles of the City of Eugene, flowing next through the West Eugene Wetlands and agricultural lands before its confluence with the Long Tom River west of Junction City. A portion of the creek also flows into Fern Ridge Reservoir via the Amazon Diversion Channel. The Long Tom Watershed Council has been working with the community and local partners to improve the health of our urban stream for the last several years. Check out more at amazoncreek.org.
Where to Meet?
LTWC Office parking lot – West Eugene Wetlands Partnership aka "Red House," 751 S. Danebo Ave., just north of the intersection of W. 11th Ave. and Danebo Ave. on the east side of the road.
What to Bring?
Boots / waders
Dress for the Weather
Water Bottle
A sense of adventure!
We Will Provide:
Gloves
Tools
Trash bags
Extra water / lemonade
Snacks
Instructions
Questions? 541-338-7055 or Carrie Karl at the City of Eugene