Support Us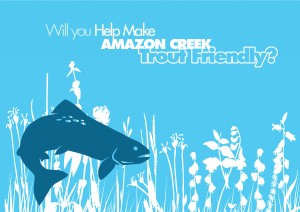 The Long Tom Watershed Council is excited to announce an important campaign for Amazon Creek!

[Click here for the campaign page and details about this important work.]
After four years of success working to improve Amazon Creek water quality through voluntary low impact development with commercial partners, we see a community willing to take the next toward a trout friendly Amazon Creek, but we need your help.
Can you see this vision of seasonal Cutthroat trout swimming through the heart of Eugene? We can, and so can the hungry otter and heron already patrolling its banks. The trout are the most sensitive aquatic members of our potential urban creek community. The Long Tom Watershed Council wants to make them feel welcome with a cleaner Amazon Creek.Will you join us in making Amazon Creek Trout Friendly?
---
---
All donations are tax-deductible. To submit an electronic gift using your credit card or PayPal account, please fill out the form below or by sending a check to the address below. You may also give by calling into Clinton at 541-654-8965.
Long Tom Watershed Council
751 S. Danebo Ave.
Eugene, OR 97402
View our 2014 Annual Report & Local Impact Report
---
Recurring/Scheduled Donations are now available! Simply fill out our Authorization for Donations via ACH form and mail to the address above, or scan/email to clinton@longtom.org.
---