Volunteer
Our volunteers believe in lending a helping hand and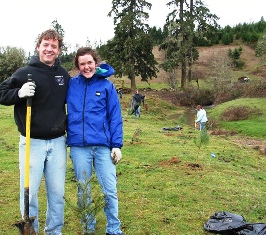 a smile. The Long Tom Watershed Council is grateful for the natural talents, ideas and connections of many individual volunteers who support us in so many aspects of our work. People volunteer in watershed science and restoration activities, education and outreach, helping out behind-the-scenes, serving on a committee, and more. People can also help the Council by acting as ambassadors of the watershed and getting information out to others. In fact, one of the best ways a person can get involved with LTWC is by simply getting the word out to friends and neighbors about who we are and what we do. Strong leadership from community members and a large core of skilled volunteers contributed to LTWC receiving several merit awards, including a top-tier designation in Oregon. Thank you to everyone who contributes their time and abilities to the Council's mission!
If you're interested in matching your skills to one of these opportunities, or if you have another idea how you could contribute your skills, please contact Rob at 541-338-7055 or operations at longtom.org.
We also encourage you to fill out and submit our Volunteer Interest form so we can learn more about you, your experiences, and what areas interest you.