Science & Restoration Projects & Programs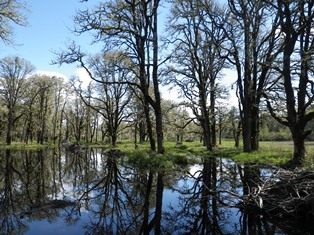 The Long Tom Watershed Council believes in science as one of the foundations for our work, along with an open-minded, common-sense approach rooted in sharing knowledge and collaborative partnerships. LTWC has been gathering data and working toward water and habitat improvements since 1998, and we are leading the way on several local programs. For example, our successful Restoration Program has completed or begun work on over 60 projects to enhance habitat and water quality. We're also leading a collaborative effort among key business and agriculture constituents to reduce pesticides in Amazon Creek, and we're the lead entity on a program to track cutthroat trout movements in Bear and Ferguson Creek.
Research helps us understand current watershed conditions and habitat needs, and it informs the planning and implementation process of our projects. Through the collaborative efforts of property owners, scientists, city planners, and other experts, we're able to successfully fund, implement, and complete projects on along streams, wetlands, prairies, and oak habitats, and urban sites along Amazon Creek with high ecological value.
Science is integrated into our learning activities and is a starting point to begin the conversation so we can approach problem solving in a practical way. All of our projects and programs are premised on the spirit of two-way communication and problem solving that involves property owners, scientists, and practitioners in watershed-level thinking. Data is never used to point fingers, and if there is any singling out, it is to say thank you!
View maps of our projects and activities