Invasive Species
Reporting Invaders:
Help us catch early invaders! Report possible invasive species to: Oregon Invasive Species Hotline,http://oregoninvasiveshotline.org (best option) or 1-866-INVADER (second option).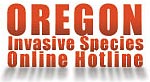 Resources on Invasive Species:
Online
Print (including field & pocket guides)
Field Guide to Weeds of the Willamette Valley. Institute of Applied Ecology, 2008. (Also available online at www.appliedeco.org)
Plants of the Pacific Northwest Coast: Washington, British Columbia & Alaska. Lone Pine Publishing, 2004.
Invasive Plants: Guide to Identification and the Impacts and Control of Common North American Species. Stackpole Books, 2007.
Links to Resources on Individual Weed Species:
Help us keep a lookout for these pesky species, many of which are not yet in the Long Tom Watershed or are popping up in isolated areas–and we want to keep it that way! "Early Detection and Rapid Response" (EDRR) is one of the most effective ways of managing the impacts of non-native invaders. Once an invader becomes established, it becomes very difficult to remove them, so EDRR is key!
Click on the name to navigate to information about that species at eitherODAorWestern Invasives Network.
Plants
Animals